Having been miserable the past few months, things seemed to get better when Lucille met stand-up comedian Gary Morton. She married him in November of 1961. In March of the following year she decided to make her return to television with The Lucy Show, in which she was happily re-united with Vivian Vance. Desi served as the show's executive producer for the first few months but was finally able to retire when, in late 1962, Lucille bought out his shares of Desilu Productions. Desi Jr. said of his father, "My dad should have stayed in Cuba and had a little house and a boat. Simple things like home and family and honesty turn him on. Business doesn't, so when he got so hung up on things that were fairly low on his scale of priorities, he ended up hating himself, and that's when he got himself into trouble." Now with some of the old pressures taken off his shoulders, Desi also remarried, the following March, to Edith Mack Hirsh, in Las Vegas. Fortunately, Desi and Lucille were able to remain on good terms. Their divorce was amicable and they shared custody of their two children.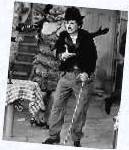 &nbsp &nbsp &nbsp &nbsp Although the public needed some time to adjust to Lucy without Desi, the show did quite well and Lucille was working harder than ever to make it a success. Desi, who had been the brains behind the camera during her I Love Lucy days was no longer there to make sure everything was right, so Lucille tried to take over the task herself. She was not just the star, she was president of Desilu Productions and had a hand in every aspect of her show. Carol Burnett worked often with Lucille: "She definately was tough, but I mean that in the good sense of the word." Unfortunately, The Lucy Show ended after the 1967-68 season, but she immediately went into production of a new sitcom, Here's Lucy, where she had her own children, Lucie and Desi, Jr. play her kids. Here's Lucy did not find the same success of her previous series and ended it's run in 1974. Lucille said, "It was a hell of a jolt to find myself unemployed with nothing to do after more than twenty-five years of steady work."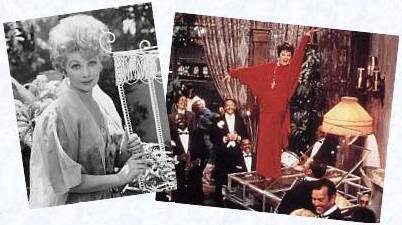 Left: A lovely publicity shot of Lucille. Right: A scene from Mame.
&nbsp &nbsp &nbsp &nbsp In 1973 Lucille returned to the soundstages of a motion-picture studio to begin shooting Mame. Unfortunately, the film was panned by critics upon its release. Over the next few years she returned to CBS by making several television specials until 1980 when she finally left the network she had worked at for the past thirty years and signed on with NBC for another series of TV specials. However, these occasional TV appearances were not enough for Lucy, she wanted to be working steady again. Her close friend Carole Cook noted, "She was bitter. That woman lived to work. And the work was cut off." The next major move she made in her career was in 1985, when she starred in a made-for-TV dramatic film called Stone Pillow.
&nbsp &nbsp &nbsp &nbsp The following year it was announced that she would be returning to the weekly sitcom format with the show Life With Lucy. While some executives and creative people behind the scenes thought it was a bad idea from the beginning, the show went on as planned. Lucy herself had misgivings about going on with the show but she hoped it would do well. Unfortunately, the same old Lucy format they were proceeding with was not going to work this time. And at the age of seventy-five, Lucille could no longer play Lucy Ricardo with the same vitality she used to. That November the show's cancellation was announced.
&nbsp &nbsp &nbsp &nbsp Lucille was dealt another devastating blow when she received the news that Desi had lost his battle with lung cancer on December 2, 1986. Over the years they had remained close and talked to each other often. She still turned to him for advice. Many close friends of Lucy and Desi's say that even though they couldn't make their marriage work, that relationship was so intense, they never really got over each other. Ironically, the last time they spoke was November 30, 1986, the date that would have been their forty-sixth wedding anniversary.
&nbsp &nbsp &nbsp &nbsp In Lucille's remaining years she lived comfortably in her Beverly Hills home with her husband Gary, and became an avid backgammon player. Professionally, she did a few guest spots on TV specials and appeared at several awards shows, culminating in her 1989 appearance at the Academy Awards alongside her longtime close friend Bob Hope. The two were met with a thunderous standing ovation. Sadly, her health was declining. In May of 1988 she was admitted to Cedars-Sinai Hospital after suffering from a stroke. The following year she was in the hospital again suffering from an aortal aneurysm. She underwent surgery to try and rectify the problem. The following day, the lower part of her aorta ruptured, and she passed away on the morning of April 26th, 1989.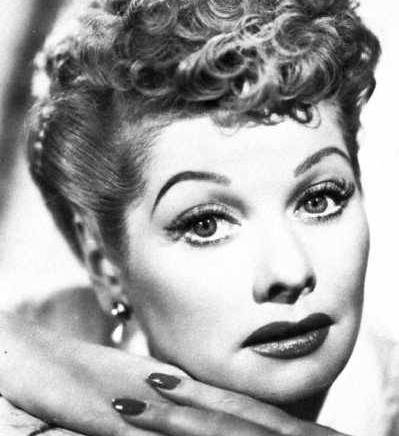 The outpouring of grief over Lucille Ball's death was worldwide. I Love Lucy has become the most popular sitcom in television history. It's in syndication all over the world, dubbed into all different languages. Luckily, because the show was shot on film Lucille Ball is still achieving what she'd wanted to achieve since she was a kid...making people laugh. Thankfully, when Lucille first came to Hollywood as a showgirl, she wasn't afraid to look silly by doing comedy, like many of the other girls were. In doing so she allowed the world to enjoy her unique brand of comic genius which we haven't seen before or since.
<-Back to: Part I, Part II
or
Part III
This is an original biography written by me, the creator of this site, using the book
Love, Lucy by Lucille Ball as the main source of information, along with others listed in the credits page.