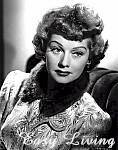 &nbsp &nbsp &nbsp &nbsp Lucille continued her career with the films Sorrowful Jones, Miss Grant Takes Richmond and most promising of all, a new radio show she began doing with Richard Denning called My Favorite Husband. CBS wanted to adapt it to television with Lucille continuing in her role as the wife. All the years they had been married Lucy and Desi had been desperately trying to work together somehow. They saw this television show as the perfect vehicle to bring them together. But of course it wasn't that easy. CBS didn't want Desi to play the husband, thinking the show would not be believable with All-American Lucille married to a Cuban conga-player. Lucy fought them, saying, "My husband is a Cuban conga-player!" She told them she would not do the show unless Desi played the husband. They needed to find a way to show the network that the pubic did like them as a couple. The solution? Vaudeville! Lucy and Desi put together a road show with Desi's band. With the help of the My Favorite Husband writers, Madelyn Pugh and Bob Carroll, Jr., they put together a few song and dance sketches and comedy routines. Needless to say, the public loved them. Best of all, while doing these shows, Lucy and Desi discovered they were going to have a baby. On the heels of their vaudeville success CBS relented, Desi was in!

&nbsp &nbsp &nbsp &nbsp Lucille and Desi, along with the writers from the radio show and producer Jess Oppenheimer, dreamed up a series for them and put together the pilot episode from parts of their vaudeville routines. The pilot was a staggering success and they found their sponsor in Philip Morris cigarettes. And things only got better, their daughter, Lucie Desiree Arnaz was born on July 17, 1951. Luckily they were able to achieve their unheard of wish of having the show shot on film, in Los Angeles, in front of an audience. For the parts of their neighbors, Fred and Ethel Mertz, they got established character actor William Frawley and stage actress Vivian Vance, whom Desi and Jess Oppenheimer had seen in The Voice of the Turtle. She and Lucille actually did become good friends. They were like sisters, they fought, but always loved each other. And as for William Frawley, Lucille said he, "WAS Fred Mertz!" She explained, "the writers took Bill Frawley verbatim" in creating that character.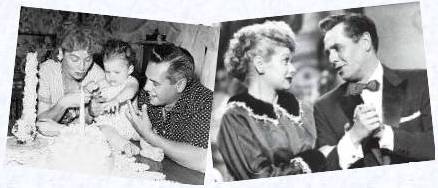 Left: Lucy and Desi celebrate their child's first birthday.
Right: "Lucy Is Enciente"- Lucy Ricardo announces she is "expecting".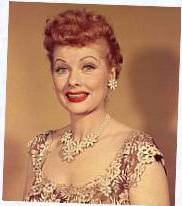 &nbsp &nbsp &nbsp &nbsp Once everything was set they went into rehearsals and filming commenced. On October 15, 1951 at 9pm, I Love Lucy premiered. It was an immediate success. A television legacy was born and Lucy and Desi had found their way to work together. The public couldn't have been more pleased. Their love for each other in real life came across beautifully on the screen. Then in 1952, more wonderful news for the Arnazes - Lucy was pregnant again. While they were ecstatic, they feared it might mean the end of the show. They talked it over with Oppenheimer, the producer and thought, how about having Lucy Ricardo have a baby on the show? With their producer's encouragement, they got clearance for the idea from the network and the sponsors. Lucille Ball's baby was going to be delivered by a planned cesarean section on January 19, 1953. Since it was a Monday, Lucy Ricardo would give birth the same day! Rapidly they went into production of the second season to give Lucille time to rest before giving birth. On the morning of January 19th Desiderio Alberto Arnaz IV was born and that night Lucy Ricardo also gave birth to little Ricky in the episode entitled "Lucy Goes to the Hospital". It knocked Eisenhower's inauguration off the front pages, and for years held the record for being the highest rated episode of a TV show. During the summer hiatus that year Lucy and Desi also made a movie together back at MGM. It was called The Long, Long Trailer and was a huge success. Everything seemed to be going great for the Arnazes, until one September night when columnist Walter Winchell got on the air and declared Lucille Ball a communist.
&nbsp &nbsp &nbsp &nbsp The "Red Scare" was going on in Hollywood at the time. For many creative people in the motion picture industry accused of being a communist it meant the end of their career. For Lucy the charges came about when a voter's registration card of hers from 1936 showed that she intended to vote for the Communist party. Once again they feared it meant the end of I Love Lucy. She testified before the House Un-American Activities Committee, explaining that she had no intention of ever voting communist - She didn't even know a thing about politics! She had only registered as Communist to please her "Daddy", Grandpa Hunt, who wanted his grandchildren to do so. In 1936 it wasn't such a terrible thing, so they did it to make him happy without giving it a second thought. Fortunately, Lucy was cleared of all charges and the show continued to be #1. The public loved her more than ever after her ordeal.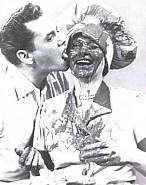 &nbsp &nbsp &nbsp &nbsp The show was at the peak of its popularity and Lucy and Desi were working harder than ever. In addition to acting, Desi also had a hand in the creative and business end of the show. He served as president of Desilu Productions, which meant he was also working on other shows the studio was producing. To the surprise of many people in the industry, Desi turned out to be a terrific businessman. He deserved a lot more credit for the show's success than he got. Lucille's brother, Fred Ball said, "Lucille would never have succeeded the way that she did without Desi...He's the guy that made it work." When the long commute to and from their home in Chatsworth became too much for their busy schedules, the Arnazes finally sold the beloved ranch they'd moved into when they were first married and purchased a beautiful home at 1000 Roxbury Drive in Beverly Hills. Their working hours grew longer, Lucy says Desi got to a point where he was doing "18 hour work days". They also made another movie together, Forever Darling. It was all too much for anyone. They had worked hard and built up a real family business, from scratch they created a production company that was now producing serveral shows and employing hundreds of people. Sadly, maintaining Desilu, did take its toll on the marriage. It put much more pressures on them and they found themselves fighting more. So, in an effort to alleviate some of the constant stress they both were under, after the sixth Lucy season they decided to cut some of the workload by halting the half-hour weekly format of the show in favor of monthly hour-long specials called The Lucy-Desi Comedy Hour.
&nbsp &nbsp &nbsp &nbsp Not long after, in need of more space for their ever-expanding company, Desi purchased RKO, the studio where they had met back in 1940 and Lucy had been "Queen of the B's" so many years before. The purchase made their facilities larger than MGM Studios! That year was Desilu's most successful, but things were not so great between Lucy and Desi. They made one last attempt to save their marriage by taking the kids and going on a vacation to Europe. Unfortunately, the trip only exacerbated their problems. When they returned home they were no longer speaking to each other. By now Desi had also taken over as director of The Lucy-Desi Comedy Hour's. The cast and crew knew the end was approaching. One of the specials a lot of people working on the show remember is "Lucy Goes to Japan", because Lucy and Vivian were in full geisha girl costume complete with the white face makeup and they remember Lucy's eyes being bloodshot red from all the crying she'd been doing. It just wasn't going to work anymore. In the first years of the show, it served its purpose of allowing Lucy and Desi to work and be together more often after ten years of marriage, but as things got bigger and better in their professional lives, their marriage suffered. It was putting more and more pressures on them. In early 1960 they filmed the last Lucy-Desi Comedy Hour. It was not only the end of the show. It was the end of the marriage of America's most beloved couple.
&nbsp &nbsp &nbsp &nbsp After the divorce Desi continued on as head of the studio while Lucille threw herself into work. She went back to movies first, starring in the film The Facts of Life, opposite her good friend Bob Hope. Then she went to work on a new venture, a Broadway show called Wildcat. In the months that followed the divorce Lucille worked non-stop and said she hadn't planned on ever marrying again.