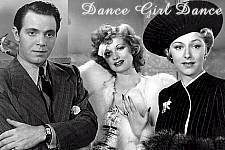 &nbsp &nbsp &nbsp &nbsp One day Lucille was told that RKO had bought the film rights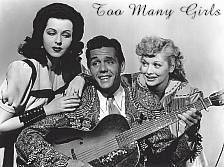 to the hit Broadway musical, Too Many Girls, and that she would be given a starring role in the picture. For now the show was still on Broadway so in the mean time she co-starred with Maureen O`Hara in Dance, Girl, Dance, in which she played a tough, wisecracking burlesque queen. During filming of this picture, the members of the Broadway cast of Too Many Girls that were to be in the film version were brought out to Hollywood. Among them was the charismatic Cuban conga-player who had stolen the show and wowed New Yorkers, Desi Arnaz. There's a scene in Dance, Girl, Dance where Maureen and Lucille's characters get into a catfight. This is the scene that was being filmed one day when Too Many Girls producer George Abbott was lunching with the show's New York cast in the studio commissary. She was still in full makeup, complete with black eye and torn dress when Abbott introduced Lucille to Desi.

&nbsp &nbsp &nbsp &nbsp There weren't many sparks between them at this first encounter, but later that day, what would become the cast of the film version of Too Many Girls were having a get-together. Lucille was all cleaned up and dressed neatly. Desi didn't even recognize her. They were re-introduced and started talking. They flirted a while, he offered to teach her how to do the rhumba, and they went to a nightclub called El Zarape with the rest of the cast. Lucille said "I might as well admit here and now I fell in love with Desi what, bang! In five minutes. There was only one thing better than looking at Desi, and that was talking to him." They had a whirlwind romance that began immediately. Everyone who knew them at the time agrees it was like love at first sight, that they could barely keep their hands off each other. For all the things working against them, they were too head over heels in love to care.

&nbsp &nbsp &nbsp &nbsp Immediately after filming Too Many Girls Desi had to go back to New York to fulfill an engagement at the Roxy Theater. They kept up a tempestuous long-distance romance until finally Lucille was able to go to New York to do publicity for Dance, Girl, Dance. When she arrived at her hotel she gave an interview in which she talked about how she and Desi had decided not to get married. That night Desi told her that he made arrangements for them to elope. They were married the next day, November 30, 1940 at the Byram River Beagle Club in Greenwich, Connecticut.

&nbsp &nbsp &nbsp &nbsp A few months later they bought their first home, a ranch house at 19700 Devonshire Boulevard in the Chatsworth section of the San Fernando Valley. They named their new home, "Desilu". It had a big backyard with a swimming pool and was the sight of many parties they threw with all their friends and family. Lucille's brother Fred says this time of their marriage was "probably the happiest". While their romance had always been tempestuous, their love for each always seemed to overcome any fights that came up.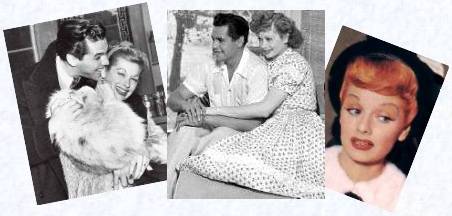 Left and center: the happy newlyweds' love for each other is caught on
camera. On the right is Lucille when she first signed on with MGM, her
hair newly dyed a color known as "Tango Red".
&nbsp &nbsp &nbsp &nbsp Meanwhile, Lucille's film career seemed halted at the "Queen of the B's" stage. She was a success in the drama The Big Street, with Henry Fonda, but she was approaching the end of another stage of her film career. Lucille made one last picture under contract to RKO, Seven Days' Leave, then after seven years at the studio, her contract was ended, and in August of 1942 she signed on with MGM, the studio with "More stars than there are in the Heavens". She was in a whole new league now, MGM was the most prestigious studio at the time and once again she began being "groomed" for stardom. Her first MGM film was the splashy Technicolor musical Dubarry Was a Lady.
&nbsp &nbsp &nbsp &nbsp Meanwhile, the world was at war, Desi was drafted in 1943 and Lucy continued making movies. This was also the year Lucille's beloved "Daddy", Grandpa Hunt, died. It was a sad and lonely time for her. She missed Desi and desperately wished they would have a child. Even though an injury had caused Desi to be stationed at a nearby hospital instead of overseas, she and Desi barely saw each other during this time and jealousies and quarrels grew so bad that in 1944 they were almost divorced. But once again love prevailed and they reconciled.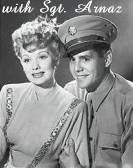 &nbsp &nbsp &nbsp &nbsp In late 1945 Desi was released from the Army. He had trouble jump-starting his film career again and Lucy and Desi's dream of working together seemed to be getting further and further out of reach. Desi wasn't getting film roles so he started to round up his rumba band again. Once again, Lucille found her career stalled at MGM. They seemed to know less what to do with her than RKO had. MGM was giving her all out glamour roles and she wasn't getting very far. Desi's musical career took him on the road and caused them to be separated again. After walking out on her MGM contract Lucille took a little break and went along with Desi to New York during one of his engagements. But Desi was soon on the road again and Lucille went back to work. She made a few films for Columbia and then decided to opt for something new- a play called Dream Girl. The company would be touring the whole country. The show opened in mid-1947 and was well reviewed. Desi wasn't doing too badly himself but they still had the problem of not being able to be together. Lucy later said, "We'd been married ten years, and been together a year and two months. You can't have children that way- you can't have them over the telephone." By 1949, still very much in love, as their daughter Lucie Arnaz explains, "They decided they were going to have to try a whole lot harder if they were going to make their marriage work." Desi would stop his cross-country tours and a "stay at home" policy was instated. They had a new beginning of sorts. On July 17, 1949 Lucy and Desi were married again. This time in the Catholic Church.