&nbsp &nbsp &nbsp &nbsp Lucille Ball was a rare combination. She had that ability to take the pie-in-the-face, perform all-out slapstick, without holding back or worrying what her hair looked like, and all the while remain gorgeous. The only other actress I can think of that mastered this quality was Lucy's idol, Carole Lombard. Since Lucille started her career in the spotlight as a model, it was indeed her looks (coupled with an iron-will) that got her foot in the door. But it was her masterful talent for comedy that set her apart from the Hollywood glamour girls, and gave her career a new direction when her film success began to decline.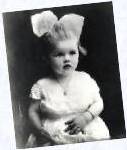 It all began on Sunday, August 6, 1911, when Lucille Desiree Ball was born in her grandfather's apartment in Jamestown, New York. Her father was Henry Durrell Ball. When Lucille was very little he became ill, first contracting the grippe and then typhoid fever. He died when Lucille was just three years old. Desiree Hunt, "DeDe", was Lucille's mother. By the age of twenty-three, DeDe was a widow, and four months later gave birth to her second child, a boy. They named him Fred, after his grandfather, Fred Hunt, with whom they lived. It was Grandpa Hunt, not the man DeDe married three years later, Ed Peterson, who would step into the role of father for Lucille and Fred. They called him "Daddy". He purchased a home in Celeron for the family to live together. Fred recalls about their childhood, "We didn't play - we worked." As the eldest, Lucille had the added responsibility of looking after her little brother and cousin Cleo. But they of course did make time to go to nearby Celeron Amusement Park where Lucille first caught the acting bug. She fell in love with vaudeville and decided that's what she wanted to do- make people laugh! At school she and her friends would put on amateur shows where Lucille would do everything from acting, to putting together costumes to sweeping the floor after the performance!
&nbsp &nbsp &nbsp &nbsp When Lucille was sixteen an event took place that changed their family life forever. Grandpa Hunt had set up a tin-can target and very cautiously explained to his grandchildren and a girlfriend of theirs how to use the gun. When it was their friend's turn, just as the girl pulled the trigger, a neighborhood boy jumped up to answer his mother calling him and he was accidentally shot. He was paralyzed and his parents sued Grandpa Hunt for everything he had. He was charged with negligence for allowing a minor to shoot a gun. They lost the house in Celeron they'd all lived in together and moved into a small apartment in Jamestown. Lucille remembered these incidents as setting off a particularly rebellious stage in her young life. She was trecking back and forth from New York City to Jamestown. A year earlier DeDe had asked her if she would like to go to dramatics school in New York. Needless to say, the answer was yes.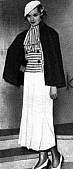 &nbsp &nbsp &nbsp &nbsp Lucille entered the John Murray Anderson-Robert Milton acting school in Manhattan at the age of fifteen. At this first stage in her professional training, her instructors were not the least bit impressed. They sent a letter home to DeDe that basically said Lucille was wasting her time and the family's money- she had no future as an actress. Nevertheless, she stayed on in New York and tried to get into stage productions. A self-described "cringing scaredy-cat" at this time, she found breaking into show biz an all but impossible feat, so she became a model instead, while maintaining her resiliency, later saying "For some incomprehensible reason, I knew that some day I'd make it as an actress." One of the things she thought might help was a new name. Lucille began telling people she was Diane Belmont, from Butte, Montana (a name and birth place she thought sounded more glamorous than Lucille Ball from upstate New York.) Lucille recalled that years later people she knew from this time still thought "Lucille Ball" was her stage name! Eventually she landed a job modeling at the upscale fashion house of Hattie Carnegie. Lucille was a good high-fashion model and endeared herself to Hattie. She was leading a very hectic life-style, and one day while having a dress fitted she suddenly collapsed. Racked with pain in her legs, she was told she had rheumatoid arthritis and was forced to go home. For about the next two years she had to use a wheelchair.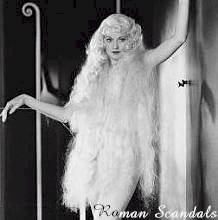 &nbsp &nbsp &nbsp &nbsp Back in Jamestown she received treatment for her condition and recovered so that by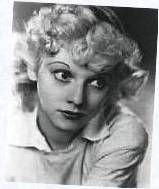 the Spring of 1931 she was back in New York where she continued her modeling career and ended up on a Chesterfield Cigarette ad that was plastered all over the city. One July day, theatrical agent Silvia Hahlo was looking for a girl to take to Hollywood as one of Samuel Goldwyn's "Goldwyn Girls" of 1933. She'd had all the girls she needed until three days before they were to head west, when one of the girls backed out. As luck would have it, Silvia ran into Lucille outside the Palace Theater. Having seen her in the Chesterfield ad, she offered her the job. Three days later Lucille was on her way to Hollywood, where she appeared in her first film, Roman Scandals, in which she played a slave girl. From there she began a hectic schedule of playing a string of bit-parts where sometimes she wouldn't even know the title of the film she was working on! Her comedic talent began to surface, and she got more jobs than the other girls, because she "took the slapstick parts the other starlets spurned, and never whined about the siphon water and pies in the face." She worked very long, hard days but loved the experience she was getting. Her brother Fred had moved out to Hollywood with her and when they saved up enough money they sent for the rest of the family.
&nbsp &nbsp &nbsp &nbsp It was about this time that Lucille got what she called her "second major break", a contract with RKO Pictures. Her first assignment was a bit part as a model in the Astaire-Rogers film, Roberta. She became good friends with Ginger and made the acquaintance of another person who would be influential in her young career, Ginger's mother, Lela. Lela was in charge of RKO's Little Theater where she would help out many an aspiring young starlet. Lela took Lucille under her wing, helped her with her acting and diction and, Lucille says, became "the first person to see me as a clown with glamour." Under Lela's tutelage over the next two years Lucille continued to develop her abilities in performances at the Little Theater and continued appearing in bit parts in pictures. The training with Lela lead her into the next stage of her film career in 1937, when she was given a small role in Stage Door. It was a major production that starred RKO's biggest female stars, Ginger Rogers and Katharine Hepburn. Her part was small, but she made the most of it. She had just made the jump from bit-player to supporting parts in "A" pictures and leading roles in "B's".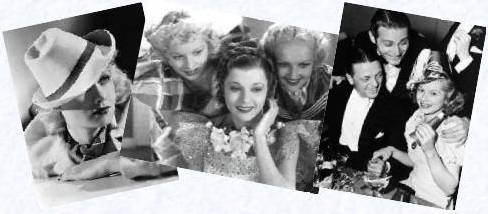 Left: Lucille about the time she appeared in Top Hat. Center: with
Harriet Hilliard (Nelson) and Betty Grable in Follow the Fleet.
Right: On the town with her boyfriend at the time, Al Hall.
&nbsp &nbsp &nbsp &nbsp Lucille loved working at RKO and would do anything they asked of her because she was always learning something new and gaining experience in the movie business. She soon became known as RKO's "Queen of the B's". She also earned a reputation for being a clown on the set and was a very popular and well-liked girl. She had an active social life, dated often and had a lot of friends in Hollywood. Her longest relationship during her first years in Hollywood was with director Al Hall. Their "easy, relaxed relationship" lasted five years. Meanwhile her acting career was going strong, on a small scale at least; the "Queen of the B's" was cast in film after film.